57 Mahomet was not slow in availing himselfof the last of these arguments. He abolished all the restrictions, as well as the relaxations, of the Homs league. The practices are indirectly reprobated in Sura ii., vv. 199-200, where he enforces the necessity of the pilgrimage to Arafat; and in Sura vii., vv. 28 and 32, where proper apparel is enjoined, and the free use of food and water. It is said that Mahomet himself, before he assumed the prophetical office, used to perform the pilgrimage to Arafat, thus disallowing the provisions of the association.

Besides the Homs, there were observed other superstitious practices, some of them with less likelihood said to be modern innovations. Such were the arbitrary rules regarding the dedication or camels as hallowed and exempt from labour when they had come up to a certain standard of fruitfulness, with curious subsidiary directions as to their flesh being wholly illicit, or lawful to men only in certain circumstances, to women only in others. The dedicated mother camel was called Saiba, (and in some cases Wasila which included goats or ewes); of the offspring of a single camel, the eleventh female was termed Bahira; Hami, was the dedicated stallion. But Ibn Ishac and Ibn Hisham are not agreed on the details of these customs. It is pretended that Amr Ibn Lohay (in the third century A.D.; see preceding chap. pp. cxcviii. ccxii.) introduced the practice; but it no doubt grew up long before that time, and is founded as M.C. de Perceval says, in the affection of the Arabs for the camel, and their reverence for those animals which greatly added to the breed; vol, i pp. 225-226; Sale, Prel. Disc. pp. 15l-l53; Hashimi, pp. 29-30.

Mahomet inveighed strongly against these arbitrary "distinctions which God had not enjoined." See Sura V. v.112; Sura VI. v.144; Sura X. v.5.

58 The relation of the different branches, as well as the previous details of the present chapter, will be elucidated by the following table.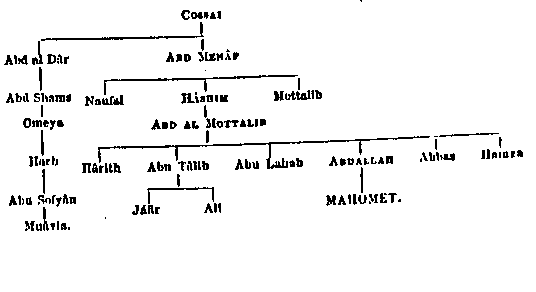 59 The custody of the Holy House, the Presidency in the Hall of Council, and privilege in war of binding the banner on the staff, - the offices secured to the branch of Abd al Dar, - might all have been turned to important account if the advice of their ancestor Cossai had been followed. But division of authority, want of ability, and adverse fortune, all along depressed the family.