Part 2: The True State Of The Qur'an
Back To Chapter 11 Text
Back To Part 2 Index
CHAPTER XI (cont'd):
"ONCE UPON A TIME" - Mr. Deedat Exchanges 'Old Last Testament' For 'New Last Testament' And Some 'NO's For 'YES's.
While Mr. Deedat writes stories about the Gospel translations saying they have a 'Once Upon a Time" introduction and there is no 'autographed copy' of each Gospel, we wonder who 'signed' [Allah he claims] each of the 'copies' of the Qur'an which Mr. Deedat is busy selling for they differ drastically over what they contain on this crucial 'NO' / 'YES' issue!!
In his IPCI (Islamic Vision) bookshop in Smallheath, Birmingham, UK, he sells all the varying Arabic texts which we have been examining [the Turkish and Iranian excepted]. And, until approximately 1994, he sold a slightly adjusted version of the Indian Arabic text as contained in the Qur'an published under the name Islamic Propagation Centre International. That text seemed to have lost its appeal to Mr. Deedat who in 1994 began selling instead the quite polluted version of the 1924 Egyptian Arabic EDITION as printed in the 1975 Islamic Foundation UK text. Of course Mr. Deedat, as mentioned earlier in CHAPTER VII under the heading "The Final Outwitting' A New Medinan Text or "Now You See Them Now You Don't", also faithfully sells the false Mushaf al-Madinah.
What is most amazing, even by Mr. Deedat's standards, is that each one of them is printed alongside the A. Yusuf Ali English Translation and Notes!! Even the text and footnote layout are exactly the same page for page in some of these! What an 'outwitting'4! Since we have already shown scans of the content of the other texts we will content ourselves with comparing scans of the IPCI and 1975 Islamic Foundation texts only - "TAKE YOUR OWN QUR'AN AND COMPARE!!"
Q3:158, 159:
Mr. Deedat's old IPCI text [the upper scan at right] differs in Q3:158 from his later text, the 1975 Islamic Foundation 'corrected' text in that the discarded IPCI text has an extra alif exactly where we found a 'NO'/'YES' problem! The text of Q3:159 in Mr. Deedat's IPCI version shows a space in which it "Once upon a time" may have had the extra alif which other Pakistani texts possess.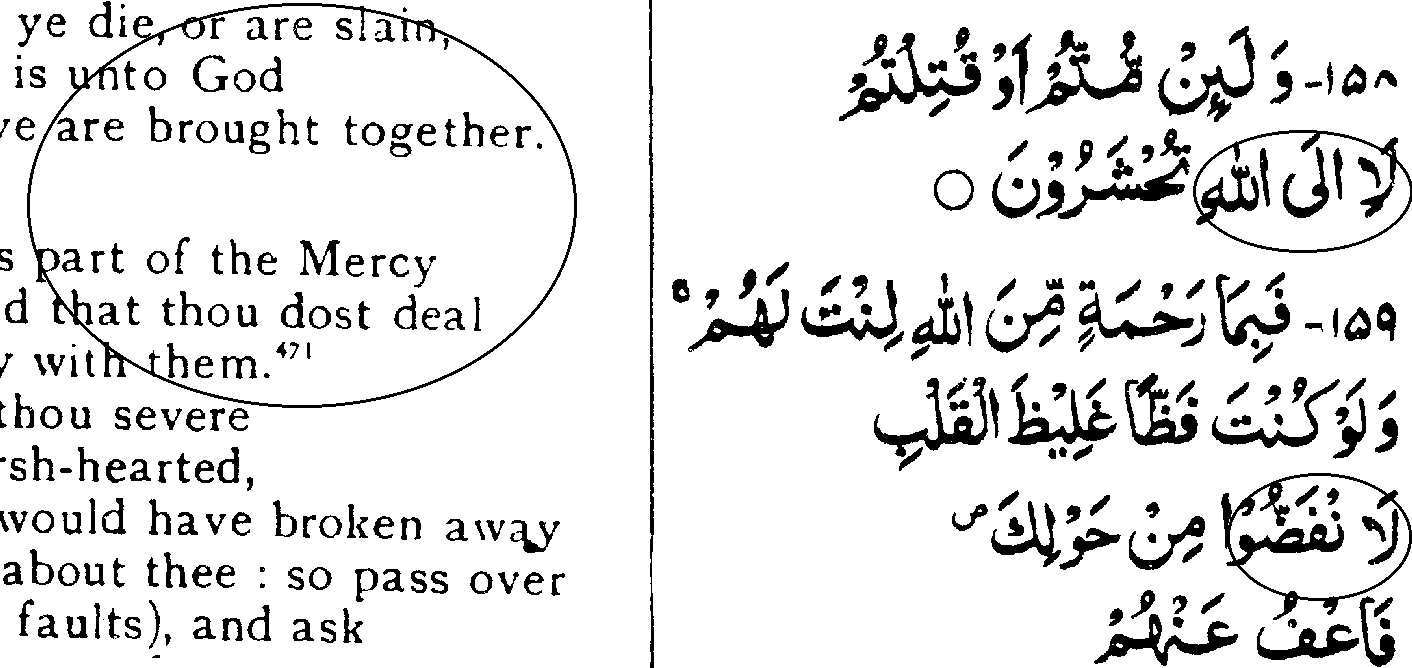 121